Discover the Full Potential of HubSpot CMS for Marketers in 2022
HubSpot CMS is on almost every marketer's lips, so if you're active on the market, you've probably heard of it. Inbound marketing is becoming increasingly popular, which means a CMS tool can benefit companies in the long term.
However, since this is a relatively new tool, not many marketers know exactly what it is and how to use it. That's why we have put together a complete overview of HubSpot CMS so you can understand it well and take full advantage of it.
In this guide, we will introduce you to HubSpot CMS and the CMS Hub, explain all the features, and walk you through all the pricing and packages available. Without further ado, let's get into it!
---
Introducing HubSpot CMS
Before we explain HubSpot CMS for marketers, we have to explain CMS on its own. It stands for Content Management System and this piece of software allows you to manage digital content creation and editing.
CMS is directly linked to the HubSpot Inbound Marketing system, which offers a powerful set of unique tools and features that are all available in a single tool to make content management easier.
HubSpot CMS for marketers is powerful and valuable because it allows you to merge all your marketing and website efforts. This way, you can work towards business growth and leverage inbound marketing from just one platform.
HubSpot CMS for Marketers: The Most Valuable Features
HubSpot CMS is not only beneficial for marketers but also for website developers. With this tool, you can build and support your website by providing targeted content all from only one platform. To show you the potential of HubSpot CMS for marketers, we will discuss the valuable features it has to offer and provide all the details you need to know.
1) It Offers HubDB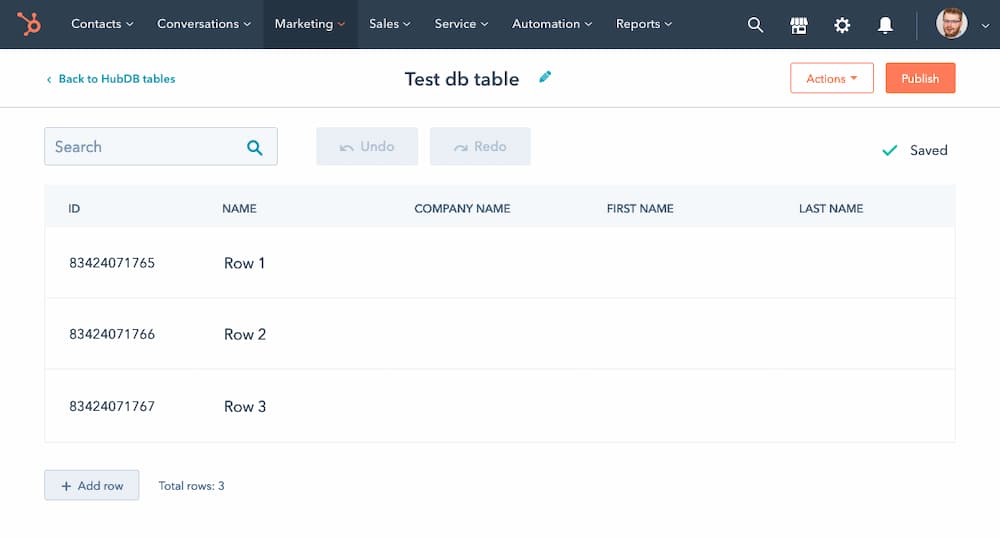 The HubDB is the relational data store and it's very similar to the spreadsheet we're already familiar with. This feature allows you to make tablets with rows of data and manipulate said data with the user interface. You can also leverage APIs and the HubSpot provides HubL markup tags so you can take data to CMS and create pages based on your HubDB data rows.
---
2) It Supports Multiple Languages
Though your target audience may like the same things, they come from all over the world. If you want to engage as many people as possible, your content needs to be available in multiple languages. Thankfully, HubSpot CMS for marketers offers a multi-language feature that converts your content into other languages. This way, visitors can read the content in the language they're most comfortable with, thus increasing engagement and retention. It would be impossible to accomplish this manually, so this feature is one of the most valuable ones for your business.
---
3) It Allows Content Staging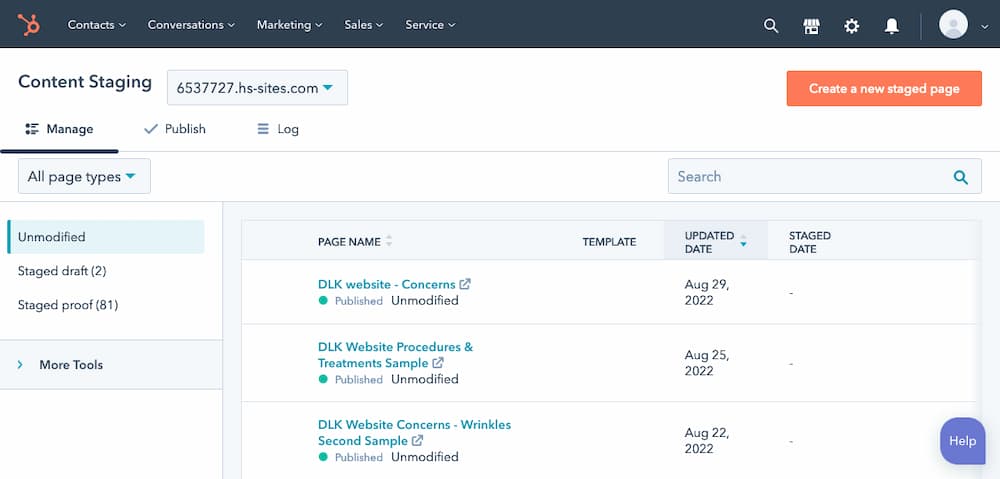 The content staging feature allows you to create a recognizable environment for your content and you can stage or update pages on your production site before they go live. Content staging is very useful when you're redesigning your website because you can just use a template to stage the pages that are already there. Additionally, this feature allows you to accommodate various pages. This way, when you need to redesign your website, you will be able to stage all the pages you need and publish them as you wish. If you want to learn more about website redesign and relaunch, this HubSpot resource will help with that.
---
4) It Has a Useful File Manager
The file manager is another great feature of HubSpot CMS for marketers because you will be able to store all your business files in one place. You can add files with the in-app UI or CMS CLI. The best way to use this feature is to store all the files that your executives will use in file pickers throughout the platform. It's important to note that the files you upload to the file manager can't be edited in the app. You can make small image edits, but you'd have to store the text-based files in the design manager.
---
5) There Is Content Search Available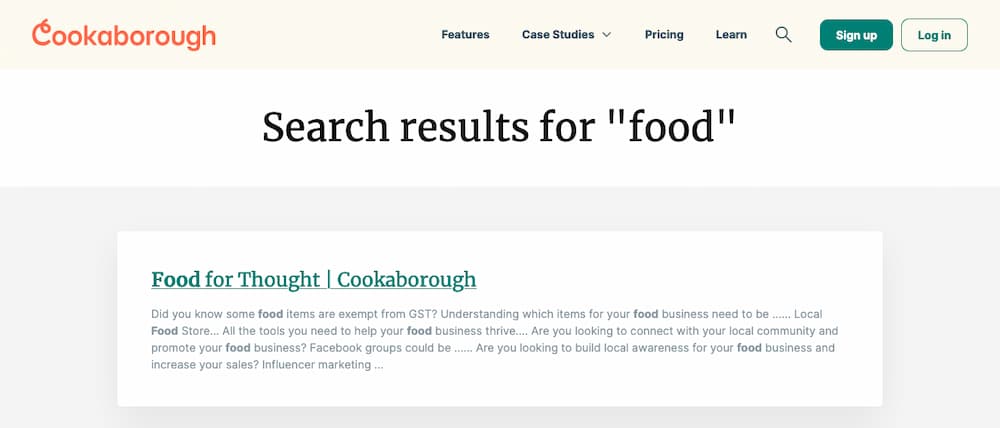 Inbound marketing is all about helping visitors and giving them all they need in one place. HubSpot CMS for marketers has a content search feature that allows you to offer visitors all your content. This built-in tool helps visitors find exactly what they want to see and you won't need to use third-party tools. You can use this content search API to give your website an effortless and tailored search experience. In turn, this will improve user experience.
---
6) You Can Create a Sandbox
With HubSpot CMS for marketers, you have the option of creating a sandbox and it won't cost you anything extra. This way, you will be able to access all the features and tools for developers that HubSpot has to offer. Additionally, you can use the sandbox as a tool to learn how to build outstanding websites on the CMS Hub.
---
7) You Can Leverage Memberships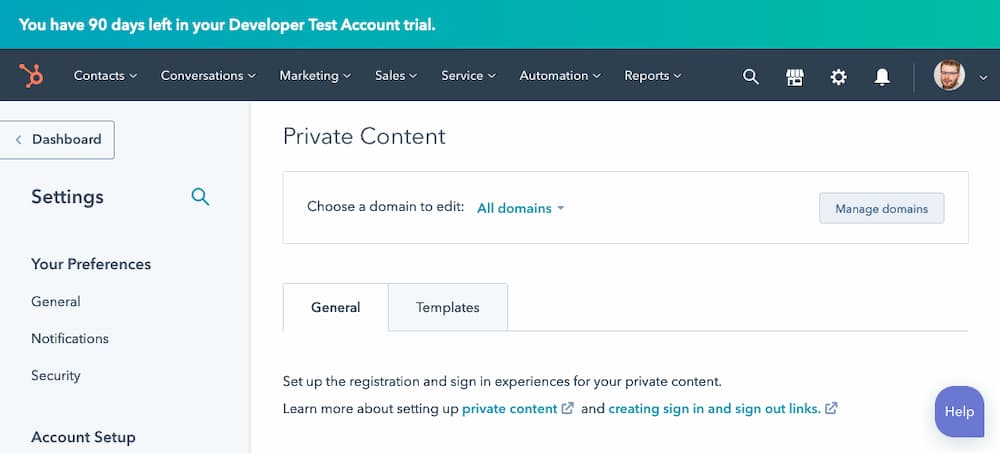 HubSpot CMS for marketers offers a membership option that makes visitors create an account and join the membership to access all the content on the website. This account system makes takes advantage of the HubSpot CRM and CRM lists and combines them so visitors can create a password. This way, you can create pages on your website that visitors can only access if they're members. Additionally, this feature helps you to limit people's access to educational articles and blogs. This can create more interest and lead to greater engagement.
---
8) There Are Serverless Functions
Last but not least, serverless functions allow you to write server-side code that will interact not only with HubSpot but also with third-party services with the help of APIs. You can also use this function to add advanced capabilities and features to the CMS Hub of your website.
---
Introducing the CMS Hub
The CMS Hub is quite the bonus. Not only has HubSpot provided a system for content management and development, but they've also provided a solution that will simplify CMS. This is great news for companies that have high expansion and scalability.

In other words, the CMS Hub makes website management easy, and there are four different tiers available that you can leverage:
CMS Free version of the HubSpot CMS offers tools that make it easier for users to create websites and deliver the best possible user experience to drive business growth.
CMS Starter, when you're ready to start expanding beyond the free tools, the HubSpot CMS Starter provides more capabilities, and the features are more robust.
CMS Professional, which suits growing businesses that need a break from managing high-maintenance systems.
CMS Enterprise, which suits large businesses that leverage more convoluted CMS solutions.
---
HubSpot CMS for Marketers Pricing
CMS Free is free forever. CMS Starter costs $23 per month and $270 per year. CMS Professional costs $360 per month and $4,320 per year. CMS Enterprise costs $1,200 per month and $14,400 per year. CMS Professional and CMS Enterprise tiers offer a 14-day free trial that you can take advantage of.
---
Final Verdict
HubSpot has one of the most powerful approaches to marketing because they offer tools that cover almost every need. HubSpot CMS for marketers will benefit your brand greatly and you'll be able to streamline several inbound marketing processes. If you need to know more, don't hesitate to reach out!