HubSpot's Marketplace for Themes and Templates: Website Building Made Easy
HubSpot's pre-made themes and templates allow you to customize your website for a unique online presence.
Cost & Packaging
The marketplace for themes and templates is free to access, but there are premium features available that you can unlock by paying a monthly fee. Check the pricing page for details.
---
Why You'll Love IT
HubSpot's theme marketplace is an amazing tool for many different reasons. You'll leave because it:
Provides access to a great variety of themes and templates for different kinds of businesses and purposes.
Allows you to make global changes to your website so you can change the entire vibe with just a few clicks, with no need for developers.
Helps you preview the changes you make before you save them to help you make a decision.
---
Create an on-brand website without spending a penny.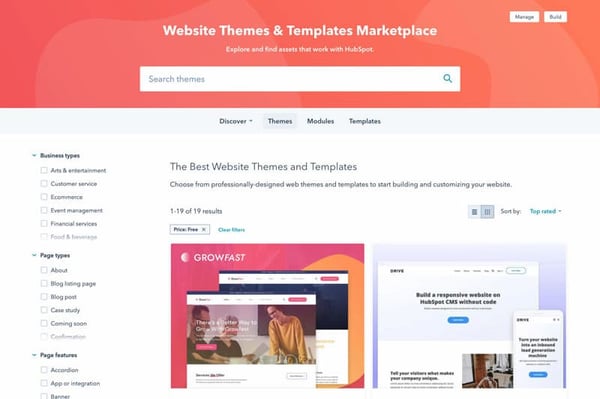 When you're trying to grow your business, it's important to have a website that's consistent with your branding. This way, you'll enjoy more visibility online. However, not everyone has the time to sit down and tweak everything, or the money to commission a developer to create a custom website.
The HubSpot theme marketplace makes the task easier for you by providing great themes and templates you can use to make sure your website fits your brand. It will take you very little time and effort.
---
Choose a beautiful theme for your customized website.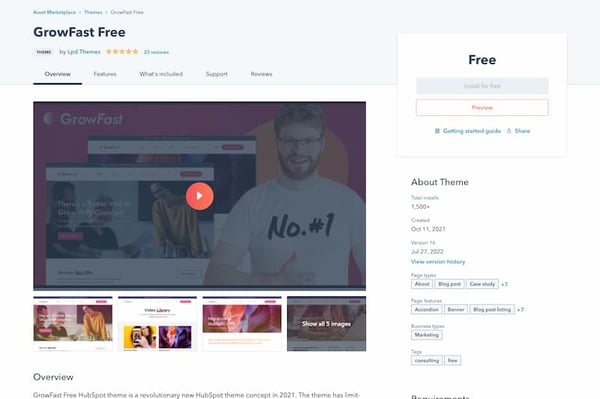 The themes, templates, stylesheets, and modules you need to create a customized website are all available in the HubSpot theme marketplace. It all works together, so you'll be able to manage your website very easily.
---
Change the aesthetic of your website whenever you need to.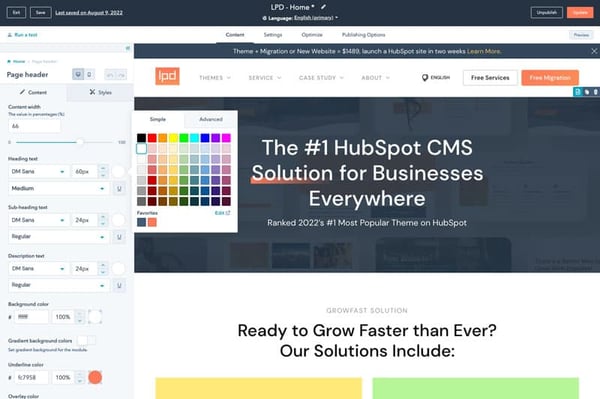 With the HubSpot theme marketplace, you will be able to change the aesthetic of your website without issue. You can change fonts, colors, and more details to make sure your website represents your brand.
---
Leverage mobile layouts to provide a great customer experience.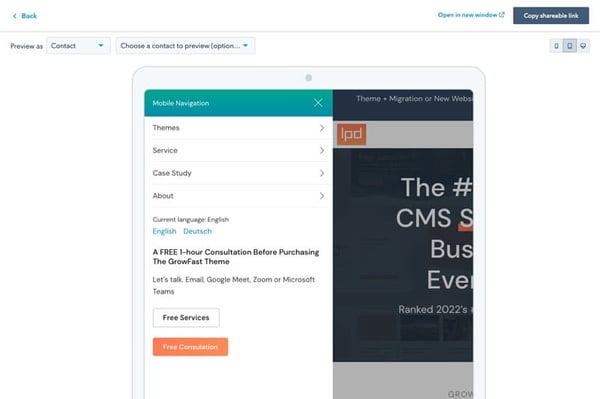 Making sure your website is mobile-friendly is key because most of your audience will visit your website on their phones. HubSpot allows you to engage your customers on any device with responsive themes and mobile layouts to provide the best mobile user experience.
---
Make your process of content creation easier.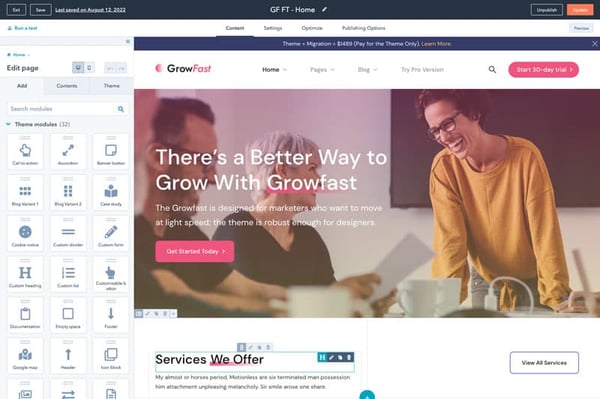 The marketers on your team don't want to learn complex coding skills and your developers don't want to handle easy website updates. HubSpot offers tools to make sure all your needs are covered.
With a drag-and-drop website builder, it will be easy for marketers to make edits, update content, and publish new material. Developers can take advantage of local development CLI to handle back-end edits and help marketers succeed at what they do best.
---
FAQs
What is a website theme?
A website theme is a tool that allows you to change the design, style, and layout of your entire website. The HubSpot theme marketplace offers hundreds of them and they have all been created by expert designers and developers. All you have to do is choose a theme that fits your brand aesthetic, customize it if you need to, and apply it to your website.
What is included in a HubSpot website theme?
HubSpot's themes are complete, so they include everything you could need for your website. Blog templates, templates for different kinds of web pages, product listing templates, and more. Additionally, you can use the drag-and-drop editor to customize the theme.
Where can I find website themes for free?
The CMS Hub offers access to hundreds of different themes and it provides you with a default theme that you can use right away. Additionally, you can get premium themes on the HubSpot theme marketplace.
What makes a website theme responsive?
When we talk about responsive website themes, we refer to website themes that automatically adjust to the user's device. That means that the theme will look good on any screen size, whether your website is viewed from a desktop, tablet, or phone.
Are themes and templates different?
Yes, themes and templates are different. Themes provide the entire layout design of the website, while templates only provide the layout for a specific kind of page. The theme will change the entire look of your website, while the layout will help you format your web pages. For example, there are templates for home pages, contact us pages, about us pages, product pages, and more.