HubSpot's website builder allows you to create and personalize the perfect website for your needs.
Cost & Packaging
This drag-and-drop website builder is free, though some additional features are available in the premium CMS Hub. Go to the pricing page for further details.
---
Why You'll Love It
You'll love the HubSpot website builder because it:
Allows you to create and customize a website without technical skills like coding.
Offers pre-built website themes to save time and eliminate guesswork.
Provides standard and custom modules to help you create the ideal website.
---
Create your own website with our drag-and-drop website builder.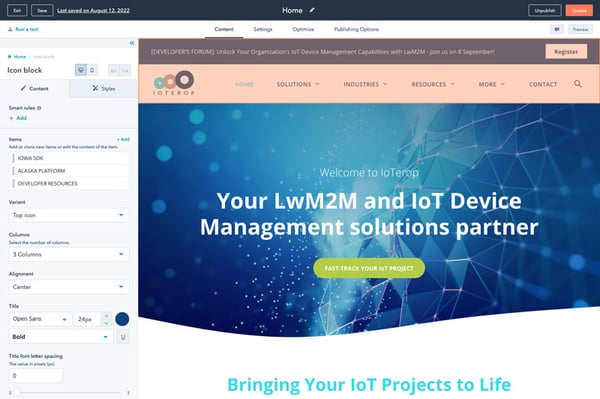 Nowadays, all businesses need a website to survive. However, designing and creating one from scratch can be a challenge if you don't have the right tools.
Thankfully, the HubSpot website builder is a complete tool that will help you create a beautiful website for your brand. This tool makes website creation quick and easy.
Additionally, you'll be able to track your website's success using the HubSpot CRM platform, where you can watch your business thrive.
---
Craft impactful and engaging content with this straightforward editor.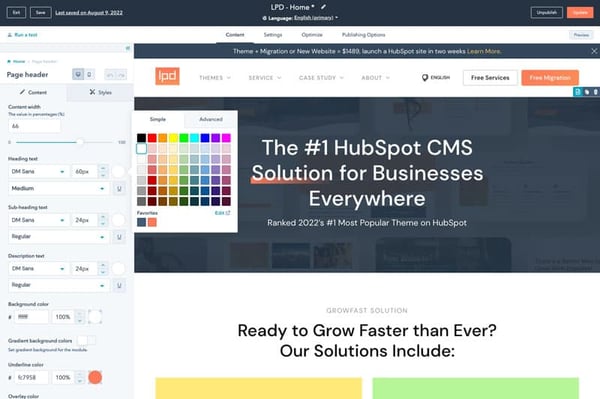 Complex editors that require technical skills make it very difficult for you to develop a clear vision of the website you want to create. HubSpot's WYSIWYG Editor solves that issue by allowing you to visualize the website as you go. This way, you can craft the best user experience for visitors. Additionally, you can preview all your content before publishing to make sure it looks amazing.
---
100+ themes to choose from for your website.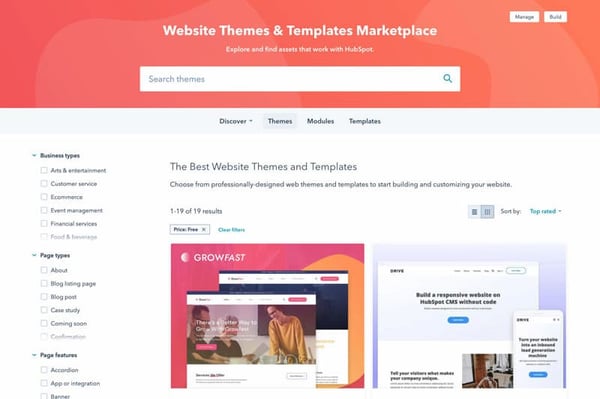 Website customization and design can be a bit overwhelming. The HubSpot website builder eliminates guesswork by providing hundreds of themes to choose the vibe of your website. You'll have access to a marketplace full of themes for different kinds of businesses, templates, style settings, custom modules, and more.
---
Take advantage of our top-of-the-line security tools.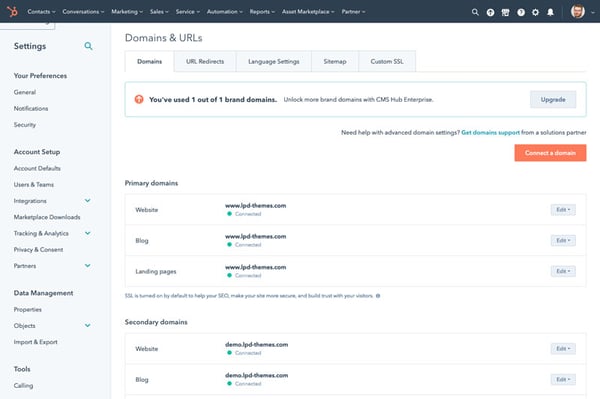 We value security above all, so we offer global CDN, SSL, and WAF features to make sure your website is always secure and uninterrupted. Additionally, cloud hosting is included in our services without any extra charges. In other words, the HubSpot website builder helps you focus on crafting the best customer experience without having to worry about systems.
---
Watch your business flourish through HubSpot's CRM platform.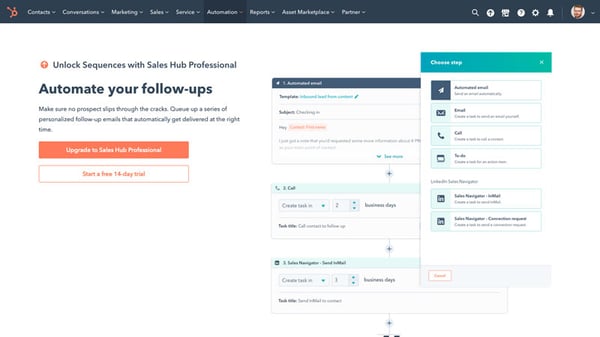 Websites make a big difference in the quality of customer experience you offer and using HubSpot's CRM platform will provide access to essential web elements through pre-made modules that are integrated into the HubSpot website builder. Including live chat, forms, meeting tools, and more. The platform will help you track leads and convert them to customers so you can watch your business flourish.
---
FAQs
What are website builders?
Website builders are tools that allow users to create and manage a unique website for their needs using themes, modules, templates, and more.
Does the drag-and-drop website builder allow me to design a unique website?
Yes, the HubSpot website builder makes the entire process very easy and you'll be able to customize everything however you see fit. You won't need any technical skills and the tool is free to use.
How much time will it take me to create my website with the HubSpot website builder?
Since the HubSpot website builder is a drag-and-drop tool that offers hundreds of themes and it's easy to use, it will only take you a few hours to create your website. Do you need inspiration? Check out our case studies to see how businesses are using the HubSpot website builder!
What is the price of the HubSpot website builder?
The HubSpot drag-and-drop website builder is free, but if you want to upgrade to unlock premium features as your business grows, our plans start at $25 per month.