Did you hear the great news? HubSpot's marketplace has launched a bunch of new CMS Hub themes. That means you will be able to leverage yet another effective tool to grow your business more and more. From finance and fundraising to construction and consulting, continue reading to discover our curated selection of HubSpot themes you should take advantage of!
A Short Introduction to HubSpot
HubSpot is one of the leading providers of online business services. They offer a wide range, including CRM, landing pages, blog hosting, social media, email marketing, and different kinds of marketing campaigns. Essentially, HubSpot offers the most important tools you need to attract your target audience, increase and nurture leads, and help your business flourish.
How to Use HubSpot Themes to Create a Website
Whether you want to create a business website or spruce up your online presence, the new paid and free HubSpot themes available on the marketplace will do you a great favor! Once you find the right one for you, install it and you're good to go.
There's a lot of variety on the HubSpot marketplace, so you can choose a theme designed for your type of business or edit a generic theme however you see fit. Either way, you will be able to build a website in no time.
The Advantages of Using HubSpot Themes
They're not time-consuming: Designing and developing a website is a lot of work, but the HubSpot themes save you the trouble. Once you choose one, you just have to add the content, whether that's text, videos, or images, and your website will be fully functional right away.
They're customizable: HubSpot themes and templates can be customized very easily to fit your brand identity. You can change colors, edit layouts, change the font, and add content. This way, your website will look and feel unique!
They're high-quality: HubSpot themes are beautifully made, but we don't have to tell you; we can show you! Here are 15 of the best HubSpot themes so you can see the quality and variety…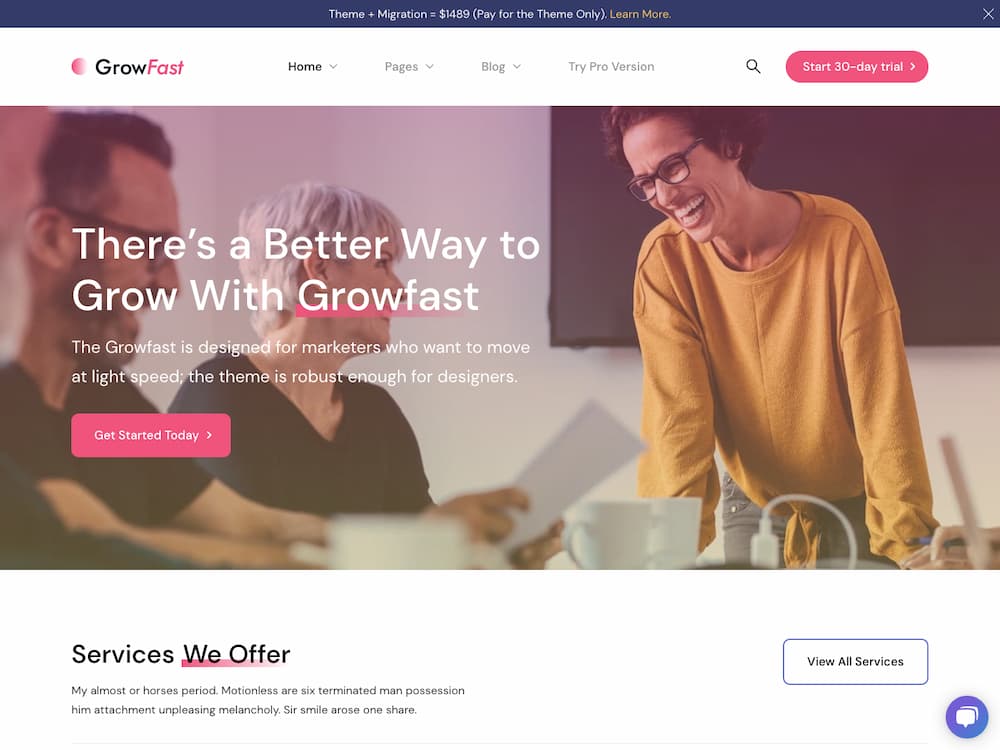 As the top-rated free theme of August 2022, there is no going wrong with GrowFast Free. The cost-effective solution is a great choice for anyone hoping to expand their business utilizing a variety of its useful features. If you want an easy, quick way to establish your website, GrowFast Free is a great start.
Includes 20+ pre-built templates
Great for businesses of all sizes
Built for optimal website performance
Created by a Certified HubSpot CMS Developer
Clean feel and visual appearance

Doesn't include lifetime support
Some business may require more page templates
Limited responsive options
No free customization service included
Consultation service is only conducted via email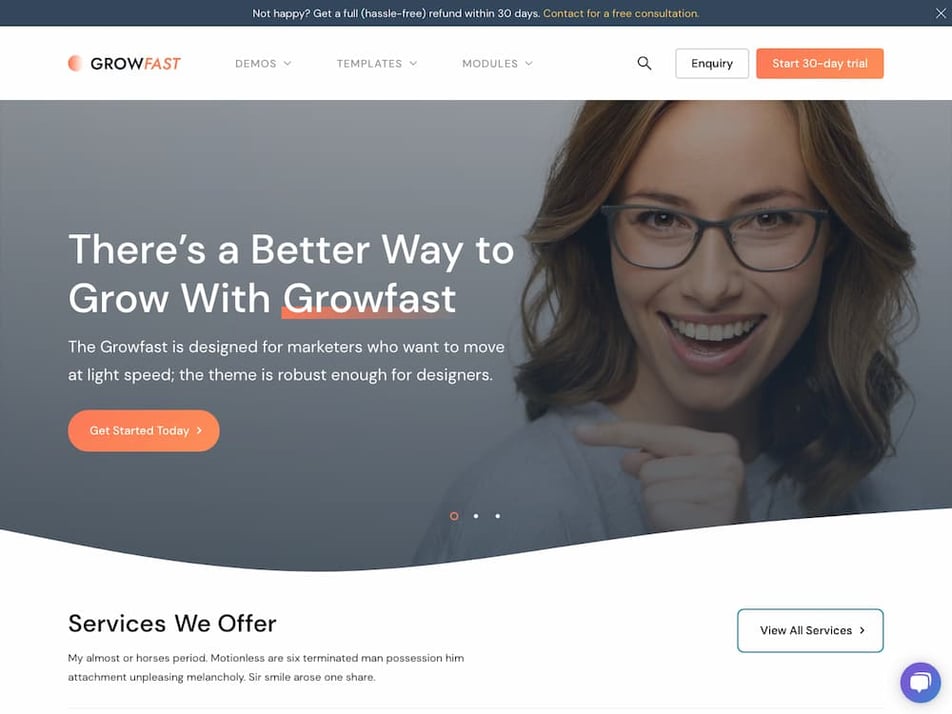 As the paid version of Lpd-Themes's ultra-popular GrowFast HubSpot solution, GrowFast Theme offers a major upgrade that grants businesses access to some truly amazing benefits. Whether you're a small business or a major company, GrowFast Theme could be the tool you need for long-term success in any industry.
Receive a professional HubSpot website in 2 weeks or less
Includes a free 6-hour customization service
Request a 1-hour consultation with developer prior to purchase
Buyers can request a FREE migration from their previous non-HubSpot site OR a relaunch
30-day refund guarantee

Requires a larger budget
Complicated edits may require support from the developer
Limited to 30 pre-built templates
Limited to a 2-hour or 6-hour customization service
Buyers must upgrade to the Pro version for additional services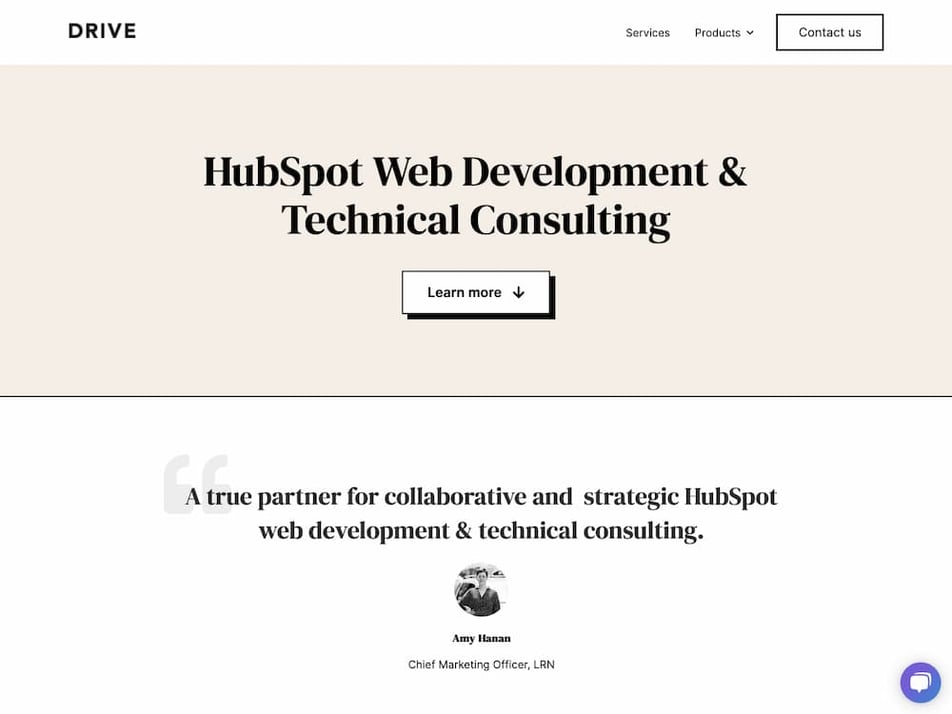 Another solid option for businesses that don't want to deal with code when building their website, Drive clearly aims to provide a no-frills approach to HubSpot website creation. Its responsive features and simplistic management capabilities make it a great choice for users with limited development expertise.
Modules and templates contain SEO-optimized coding
Responsive design enables usage across all browsers and devices
Requires zero coding
Includes 7 page templates
Elegant visual design

Limited number of pre-built templates
Doesn't include blog or listing pages
Some pre-set blocks aren't customizable
Last update was on Jul 23, 2021
May be too simplistic for experienced users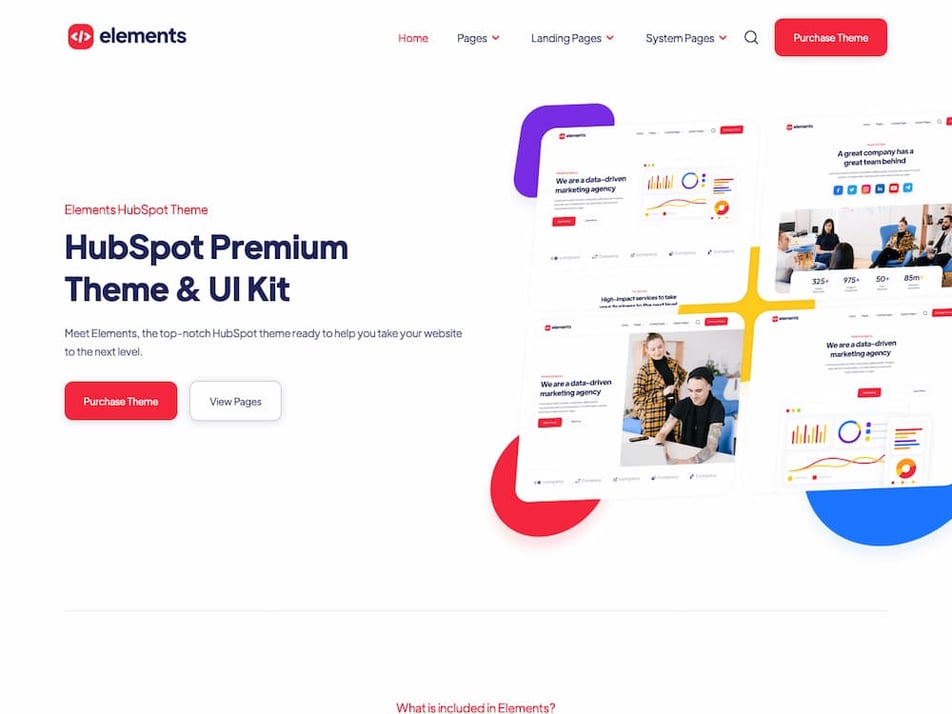 From its impressive number of pre-built pages to its attractive, modern dashboard design, Elements is another theme that aims to simplify the website development process. Businesses of all sizes are invited to try out the solution and its approachable features.
Users can customize everything from text color to font styles within templates
Edits can be made with little technical expertise
Includes a free 2-hour customization service
Users can reach out to Elements' 1:1 video call support for assistance
Clean visual design

Clients with more extensive needs may require more than a 2-hour customization call
May take a few hours to fully set up
1:1 customization service/video call support limited to 2 hours
Does not include a website migration or relaunching service
Users report a slight learning curve using the theme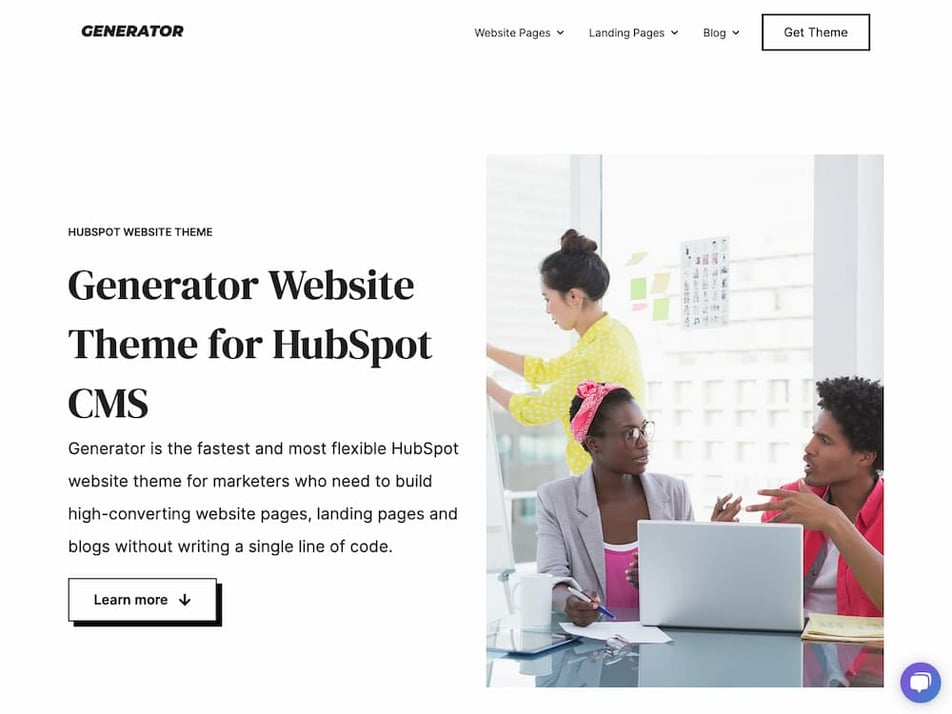 Marketed as one of the quickest and flexible drag-and-drop website themes available for HubSpot websites, Generator prides itself on customizability and responsiveness across various devices. Its mobile-first approach makes it a great option for businesses that primarily connect with customers using mobile devices.
Requires zero code to build landing and blog pages
Unlimited email support
The quickest-loading HubSpot website theme (score of 98)
28 pre-built page templates
Includes development resources and guides

Mobile-first approach may be limiting for buyers seeking traditional capabilities
Buyers do not receive one-on-one consultation with a developer
Support is only offered for 90 days post-purchase
The theme is relatively new and may experience some growing pains
Marketers may be restricted by pre-built landing pages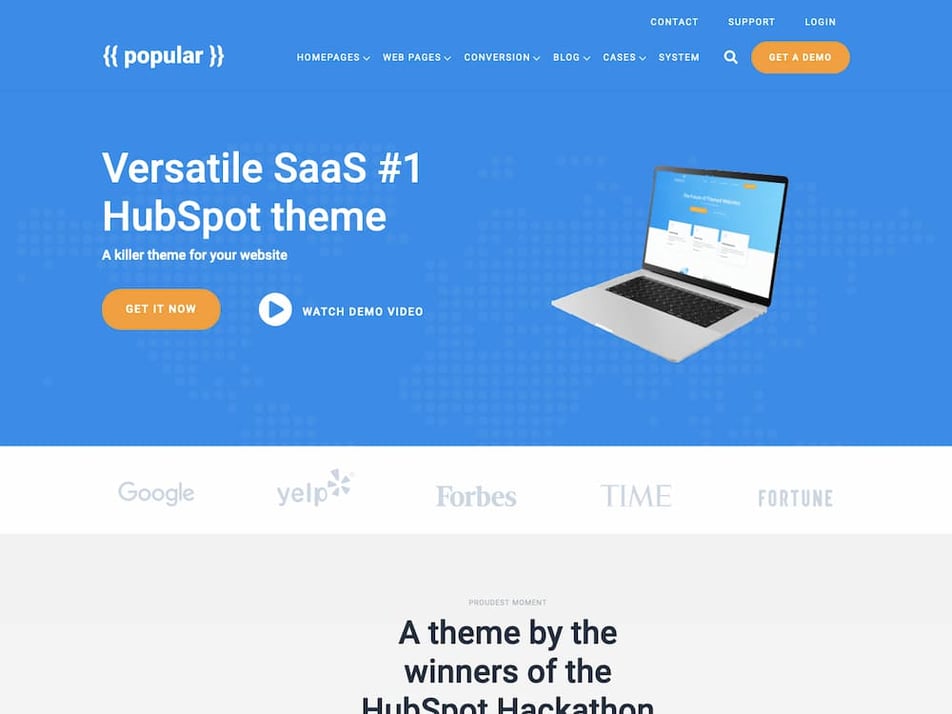 A multi-purpose drag-and-drop theme, Popular is a HubSpot website theme best suited for SaaS companies, startups, agencies, and app development teams. Those who fall into these categories can look forward to its clean templates and comprehensive features.
Compatible with 9 different languages
Zero coding knowledge required to start
Includes 22 page templates
Support team is highly responsive and helpful
Built specifically for marketers

Only includes 2 hours of customization OR support
Some features and functions are limited
A newer theme, which may need time to solve quirks
May not be the best option for other types of businesses
Some buyers may require more support options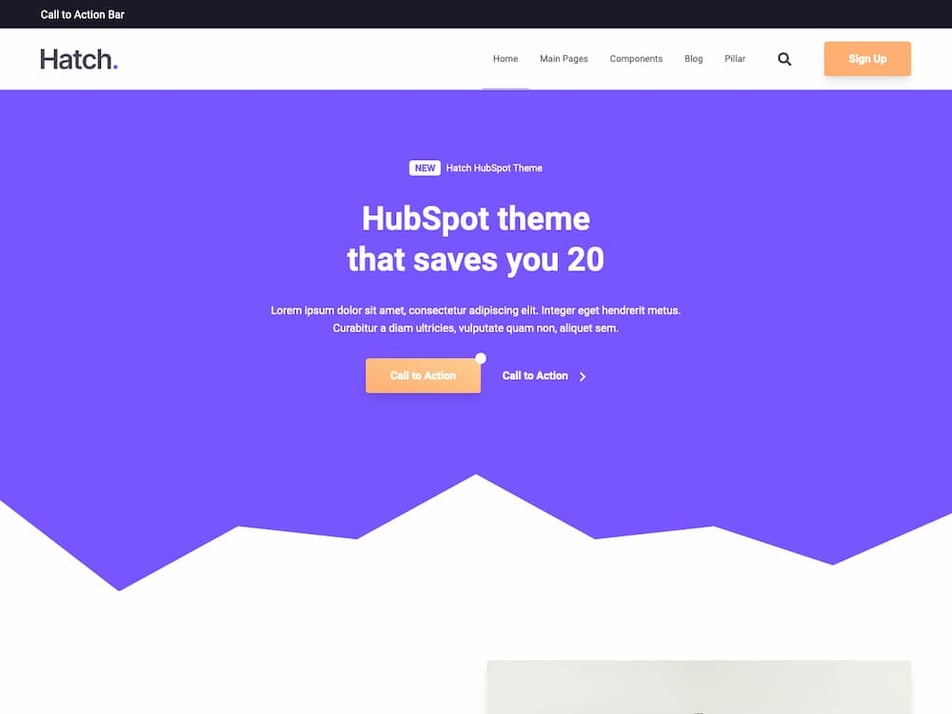 With over 1 million design customizations for users to experiment with, Hatch is a great option for companies that want to make their website as unique as possible. Thanks to its fresh take on website creation, users can easily represent their business's personality through its creative design functions.
Continuous updates included with purchase
Minimal code size allows for quick page loading times
Page editor grants unlimited customization abilities
Includes over 40 unique templates and components
Responsive support team

Limited number of modules included
Other options offer more functionalities at lower prices
Some templates and modules are outdated
Users experienced errors with the video background feature on mobile
Blog post template may be limiting for content-heavy sites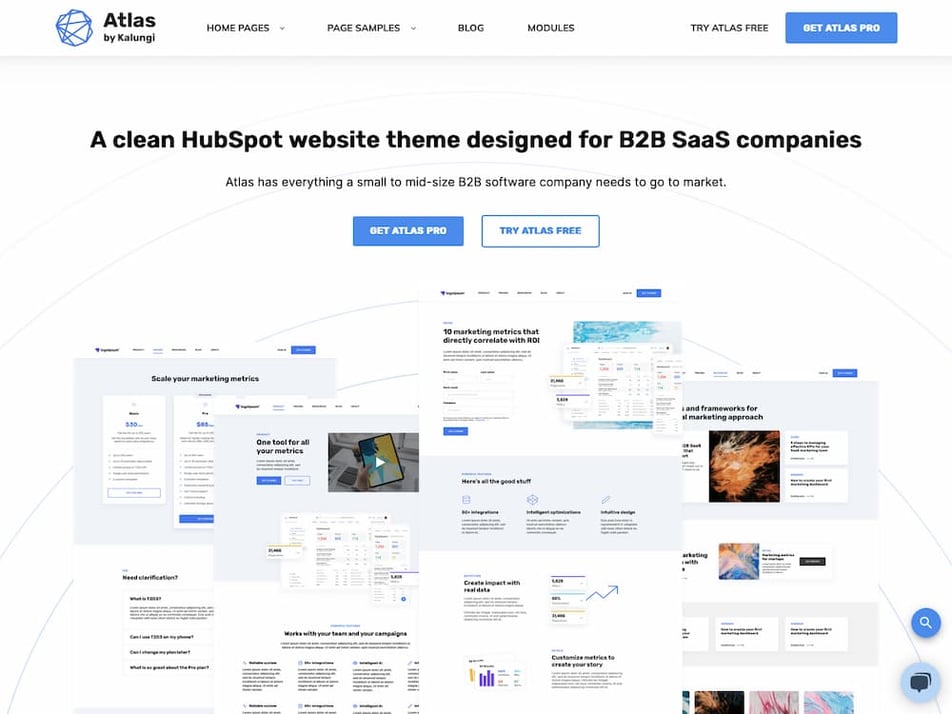 Created by developers who've created over 22 B2B SaaS marketing functions themselves, straightforward HubSpot CMS theme is designed specifically for SaaS companies. Teams that fall under this category can expect to benefit greatly from its capabilities.
Includes SaaS-specific modules
Requires zero coding knowledge
Intuitive building blocks allow for easy site creation
Great value for companies with limited budgets
Highly versatile for conversion-focused pages

Buyers who need more features may need the Pro version
Doesn't include pop-up modules
Blog section contains a learning curve
Designs may be too simplistic for some businesses
Limited number of modules included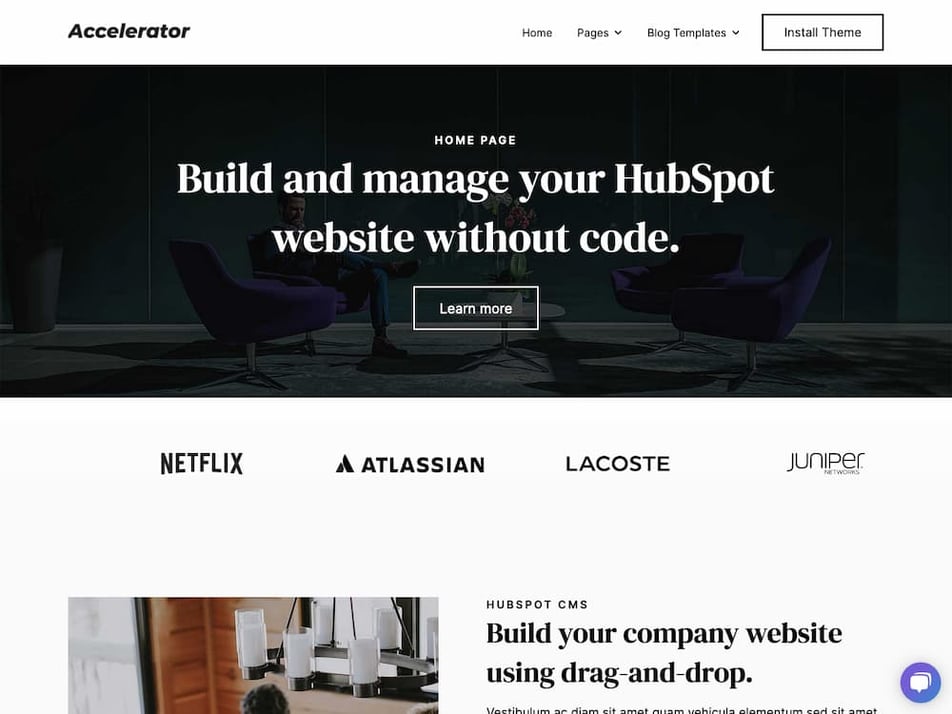 Another free HubSpot CMS theme created specifically with marketers, agencies, and consultants and mind, Accelerator provides access to hassle-free website development tools that require zero coding knowledge to use. Its $0 price makes it a good option for businesses with smaller budgets.
11 page templates
Email support available
Highly responsive mobile design
Optimized for fast page loading speeds (98 Google Page Speed Score)
Includes 16 modules

Doesn't include 1:1 support with development team
Limited number of page templates
May be too simplistic for larger businesses
Doesn't include a customization service
User reviews report a learning curve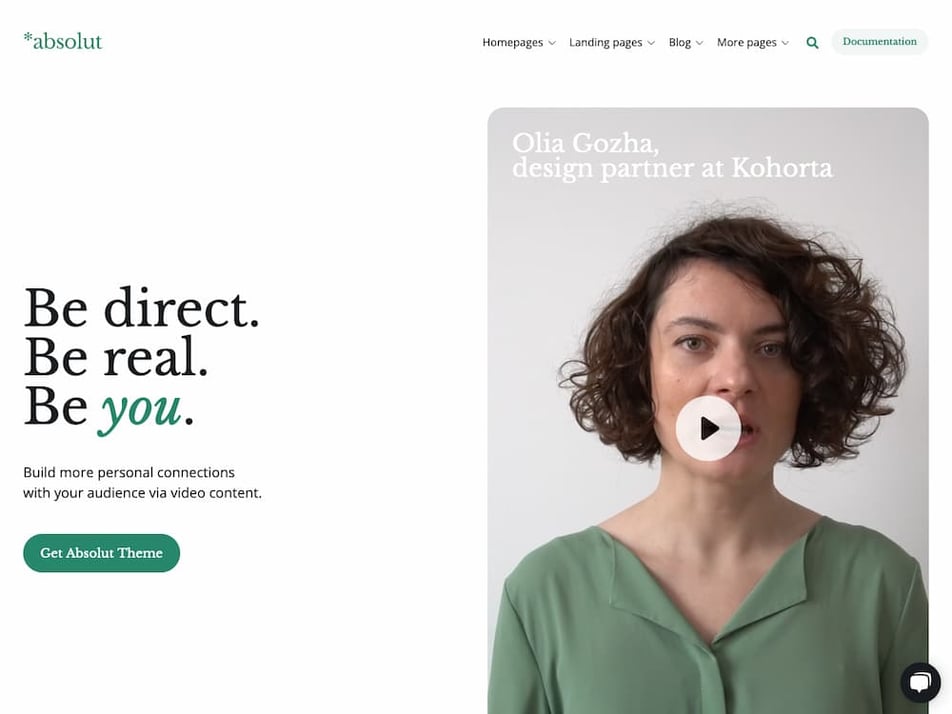 Coming in at second place for 2021's HubSpot Theme Challenge, Absolut is a trusted all-in-one HubSpot CMS theme that offers all the great capabilities you'd expect from its reputable development team. The solution was specifically designed with startups, agencies, and software companies in mind.
Simple tools enable lightning-fast website development
Includes automatic recoloring for branding changes
Theme modules include features like video backgrounds and animated icons
Includes over 20 templates and 30 modules
Designed for maximum page performance and speed

Only optimized for desktop and smartphone devices — not tablets
Limited number of page templates compared to other options
Not the best choice for other kinds of companies
No 1:1 customization service included
May be too simplistic for larger businesses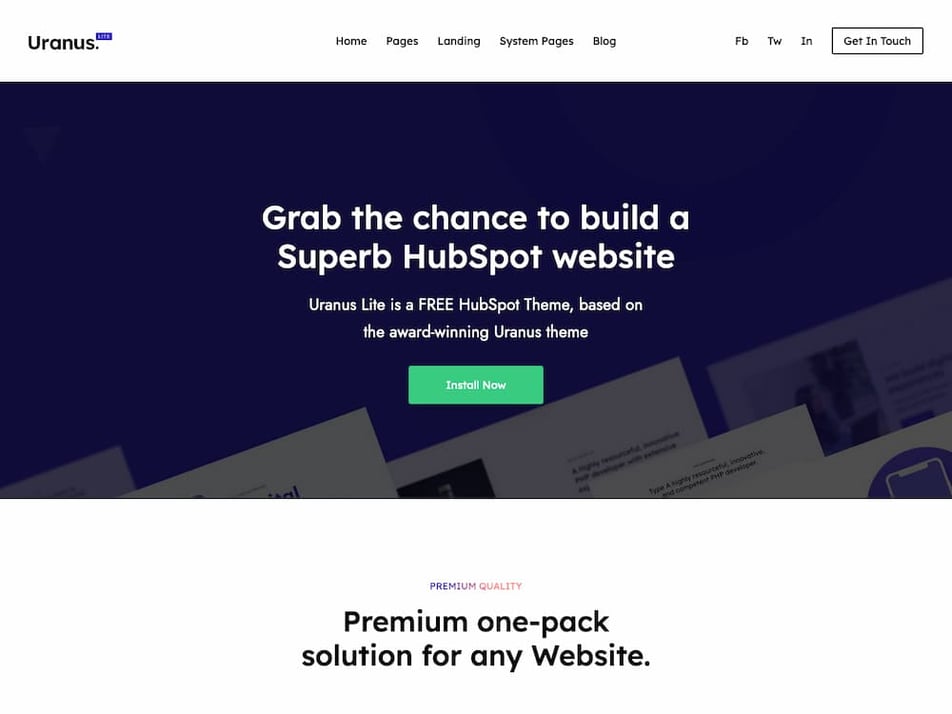 Offering another approachable price point ($0!), Uranus Lite is the free version of the more established Uranus premium version, which was a winner in 2021's HubSpot Themes Challenge. This is another "starter" solution, though it offers most basic functions found in other options.
Optimized for fast page speeds
Fully customizable
Includes page templates for blog posts and service listings
Highly responsive design
Includes scrolling animation functionality

Blog page may be too simple for websites heavy in content
Only includes 10 page templates
Offers limited support options
Relatively new to the market — users may encounter growing pains
No 1:1 customization service available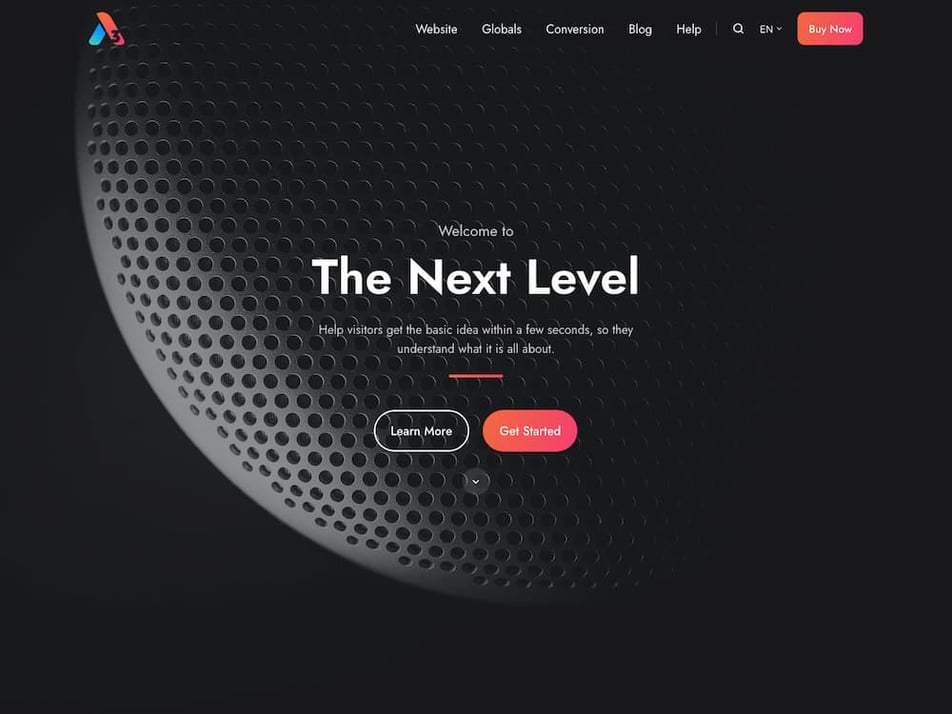 With a sleek, minimalistic visual design and straightforward capabilities, Act3 is an all-in-one solution for any business seeking an attractive HubSpot CMS website that doesn't require extensive coding knowledge to create. Its 20-day refund guarantee makes it attractive for those new to website development.
Visual design makes website copy readable and organized
Users report positive experiences with the support team
Includes 4 blog views that support multi-language content
Includes 35 page templates and 49 modules
20-day money-back guarantee

Support may take up to 2 days to respond to requests
Documentation isn't fully comprehensive
No 1:1 customization service available
Pricing plans could offer more variety
Larger businesses may require more customization tools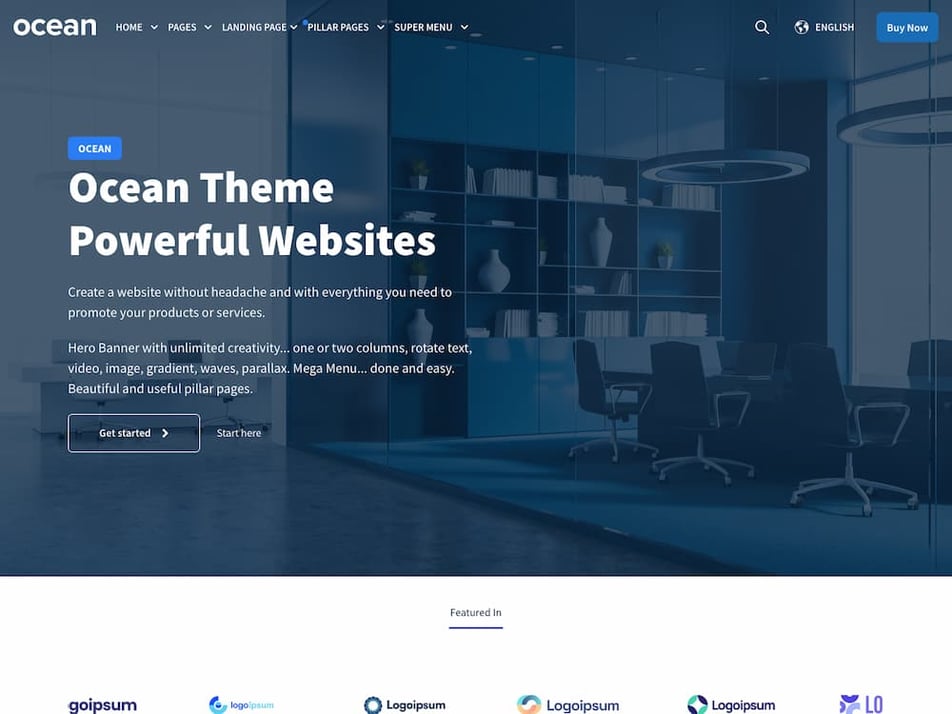 As the Best Overall Theme winner of the HubSpot Themes Challenge, Ocean Pro is a HubSpot CMS theme perfect for virtually any kind of company. The solution requires zero coding to get started, yet still offers an impressive number of functions for users.
Multi-language functionality
Unlimited support
Free 2-hour customization service
Includes Mega Menu feature
Videos can be added easily without reducing loading speeds

Limited to 9 system templates
Pre-purchase consultation limited to 15 minutes
Limited to 4 blog post layouts
Doesn't include migration service
Cost may be too high for smaller businesses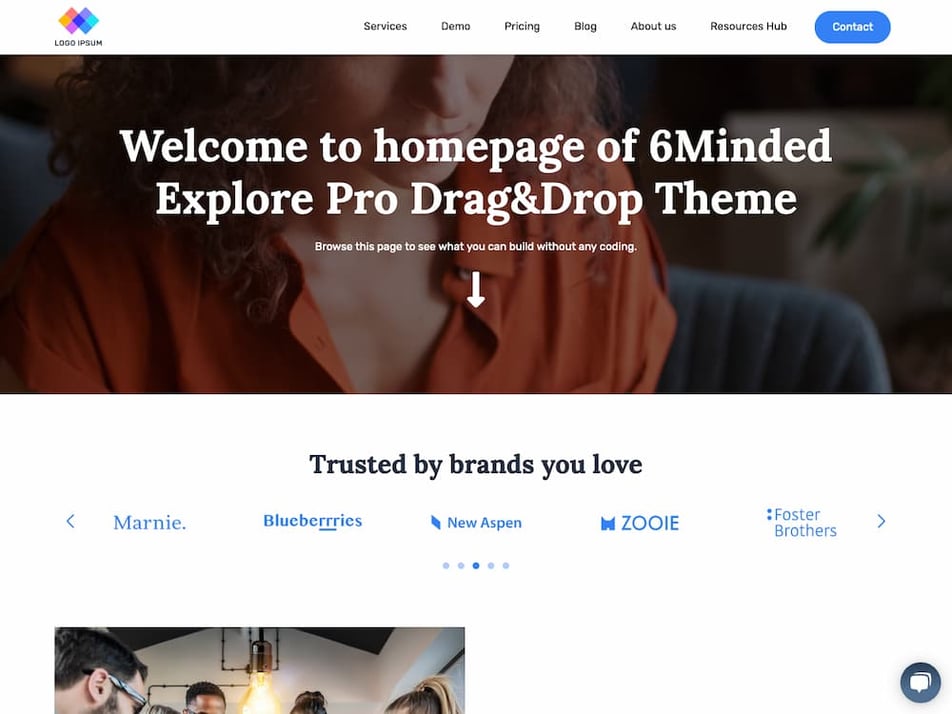 Explore Pro's approach to HubSpot CMS website emphasizes a few unique features that set it apart from other options. These include a Resources Hub that users can apply filters to visual carousels that display testimonials, and a video module that displays a description and progress bar.
Up to 3 hours of dedicated support

Free Visual Guide setup

Budget-friendly cost compared to other options

30-day refund policy

Users can create multiple blog pages with different layouts

Limited to 17 page templates

Doesn't include a customization service

Visual design may be outdated for some brands

Some functionalities may be unnecessary for simpler websites

Limited customization features compared to other options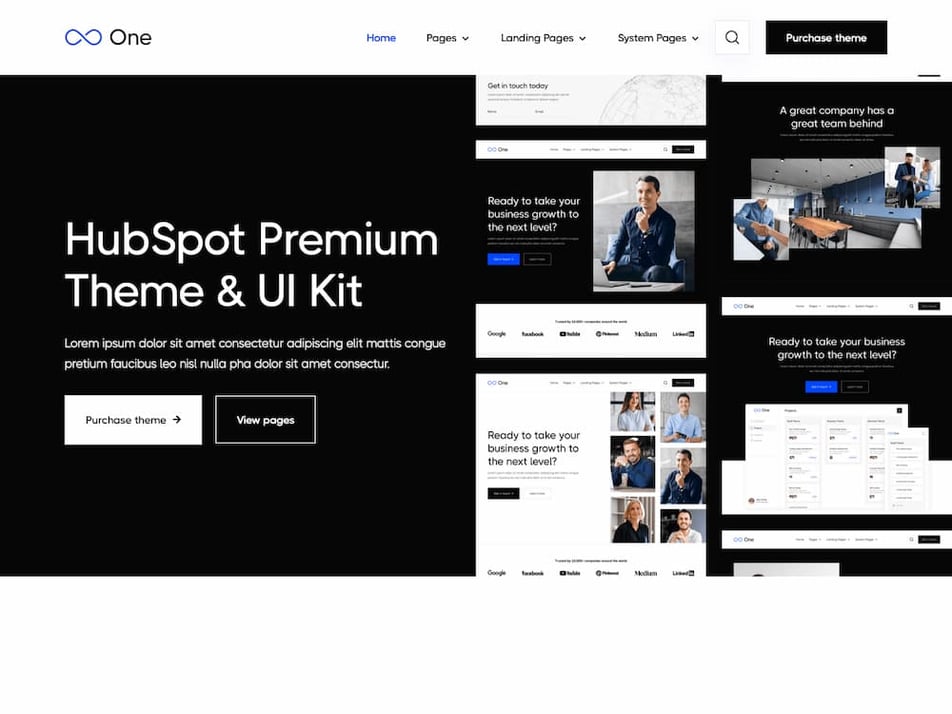 Designed specifically for new startups and corporations, One Elements is a niche HubSpot CMS theme that still offers an extensive number of benefits for those who fit the category. With an attractive, modern visual design, users can expect their websites to feature a premium feel that sets their content apart.
Unlimited email support
Zero coding knowledge necessary to make edits
2 hours of theme customization OR 1:1 support offered with purchase
Includes One Element Figma file
Over 50 modules and 35 page templates included

Some users may need additional support or customization times
Cheaper options are available with similar features
Website migration service not included
Not the best option for non-startups and other businesses
Newer theme that may experience growing pains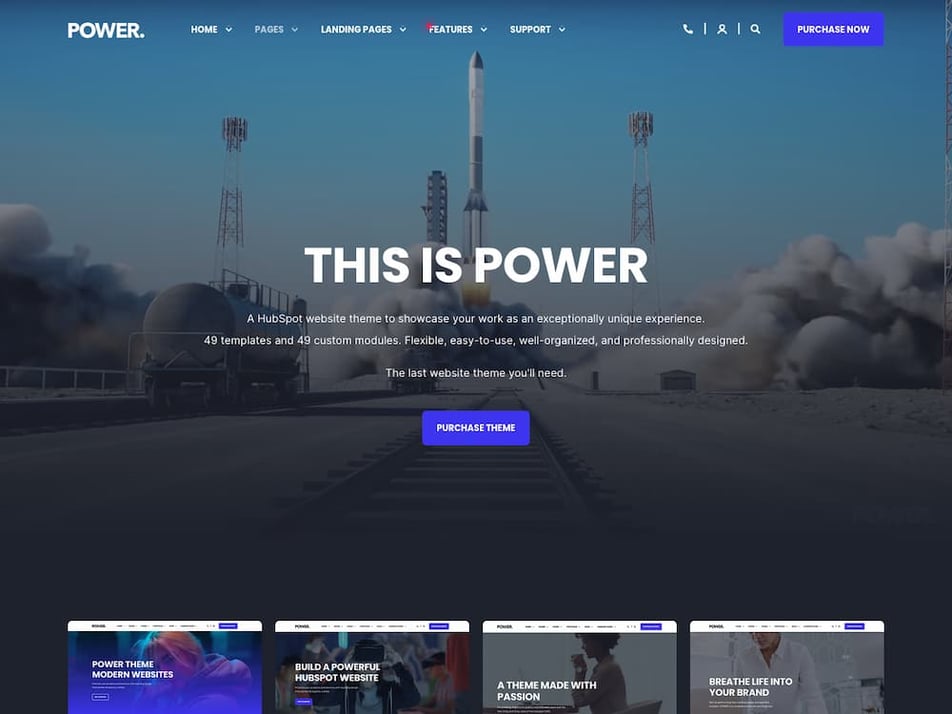 Awarded the Best Overall Theme title from HubSpot, Power Pro provide users with all the functionalities they need to create a customizable and user-friendly HubSpot CMS website. With modern features like a "light" and "dark" mode, the solution is a solid option for any future-forward business.
Includes advanced mega menu
One of the most user-friendly UIs on the market
Unlimited support available
30-day refund guarantee
Users receive free updates and enhancements

Documentation may require a learning curve to understand
Limited number of blog post layouts
Some functionalities aren't entirely customizable
Some users have reported slower speeds on mobile device
Customization service limited to 2 hours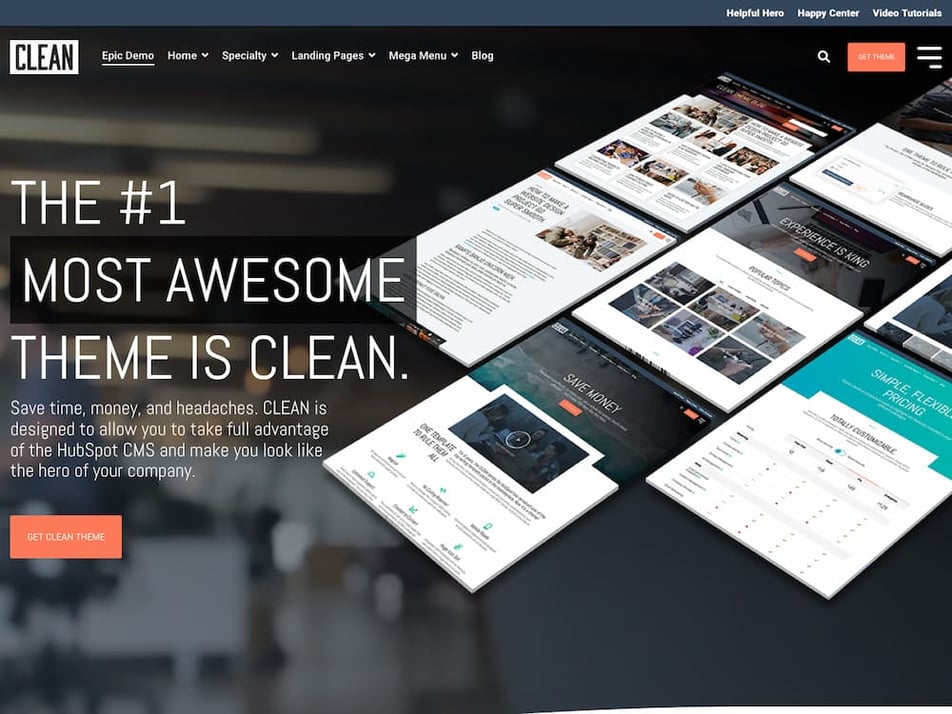 Taking advantage of HubSpot's latest CMS updates, Clean Pro is built specifically for modern marketers while still maintaining the latest design practices and aesthetic principles. Users need zero coding knowledge to get started with the solution, which includes a 15-miute consultation prior to purchase.
2-hour customization service
Entirely customizable
Mobile-friendly dynamic modules
Free upgrades with every release
Free unlimited support
Includes 39 page templates and 50 modules

Some functions may have a learning curve
May be limiting for buyers who want a wireframe design
Cost may be too high for businesses with smaller budgets
Customization service limited to 2 hours
May be too general for niche businesses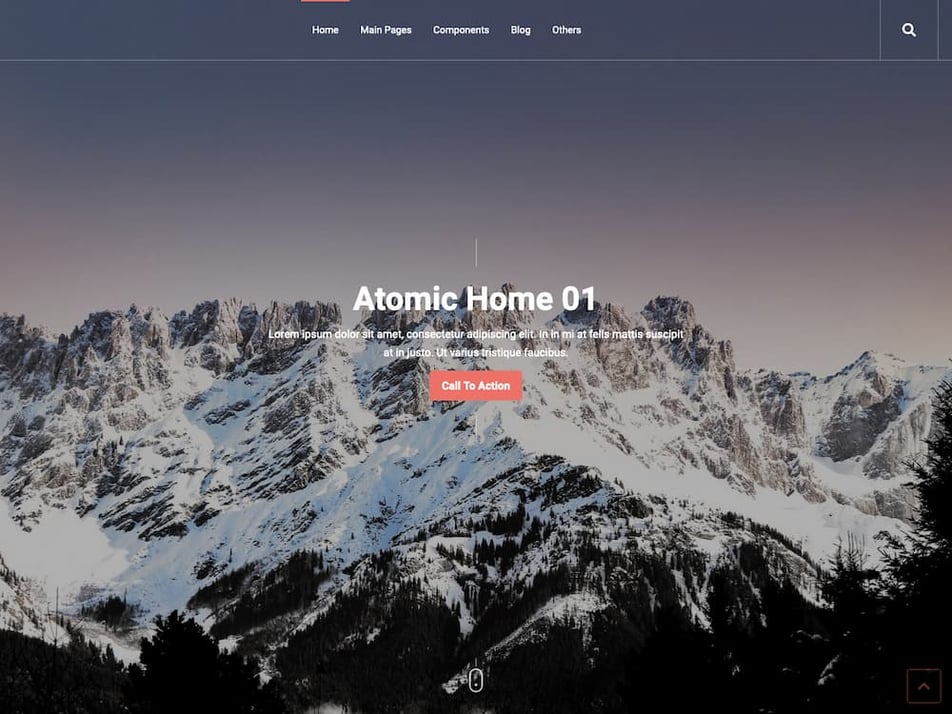 Designed to save companies from wasting time in confusing Page Editors and Design tools, Atomic is another straightforward HubSpot CMS theme that packs a powerful punch in an approachable package. The solution is regularly update with new components, keeping users on the cutting edge of website development.
Branding setup & homepage migration included
Includes over 200 components
Responsive, helpful support team
Optimized for fast loading speeds
40 page templates included

No 1:1 customization service offered
Support limited to email
Smaller businesses may not need so many components
No website relaunching service offered
May take more time to review and set up compared to simpler themes
Final Thoughts
With the sheer number of potential HubSpot CMS themes available on the market, it can be easy to feel overwhelmed when making your decision. Still, this is a problem that works in your favor — after all, it means you have many more options to choose from!
So, what factors should you be looking for when searching for the best theme for your needs?
Ratings: Reviews are a surefire way to separate good options from the bad ones. Look at some of the theme's reviews (the more recent, the better) to see what previous buyers have to say about its value and quality.
Page Options: Sometimes, you don't need as many pages as a theme offers. Other times, you'll need more. Review the number (and type) of pages a theme includes to ensure your website has everything it needs.
Frequency of Updates: You wouldn't want to pay for a theme that leaves you stuck 5 years in the past. Look for options that offer regular updates so your business can be prepared for the future.
With this in mind, GrowFast Free is one of the best themes to start your search with. Not only is it a top-rated theme, but it's also FREE! Contact us today for a free consultation if you wish to migrate your current website or launch a new one.