The #1 HubSpot CMS

Solution

for Businesses Everywhere
Ranked 2022's #1 Most Popular Theme on HubSpot
Ready to Grow Faster than Ever? Our Solutions Include:
Save money and time with one of our convenient business tools guaranteed to keep customers coming back:
Easily migrate your website to HubSpot CMS — or create one from scratch — with one of our hassle-free options:
Use Our Four-step Process to Launch Your Website in Less than Two Weeks:
Connect with us to discuss your project needs, set objectives, and determine the best solutions to help you reach them.
Once your project has been thoroughly outlined, we will immediately begin working on your unique solution. Whether you wish to migrate an existing website or launch a new one from scratch, we will make your needs a priority.
The wait is over! In less than two weeks, you will receive your final delivery for review.
Once all requirements are satisfied, your business can enjoy the unrestricted growth provided by your improved HubSpot website, enhanced features, and more!
Lpd-Themes recognizes the value of a personalized approach for each unique project and requirement. As such, we are happy to provide a free consultation for every client to ensure your HubSpot website dreams become reality!
Not Sure Where To Start?
Claim Your FREE One-hour Consultation Before Purchasing
We are prepared to walk you through every step of your HubSpot CMS journey. Whether you have a simple question regarding one of our themes or wish to discuss a custom development project, we have all the answers you seek.
GrowFast is designed to meet

your needs
GrowFast Regular/Pro
GrowFast Free/Landing

FREE 1-hour consultation before purchasing via email, Google Meet, Zoom, or Microsoft Teams

Limited email consultation
FREE migration service and launching a new website learn more

FREE customization service
Pro: 6-hour / Regular: 2-hour

Powerful and Flexible HubSpot Theme
Regular/Pro: 32 page templates, 44 modules
Free: 23 page templates, 34 modules / Landing: 23 page templates, 34 modules
FREE Unlimited Email and Chat Support

Limited free support

FREE Theme Updates

Free child theme library and child theme installation service

A 30-Day REFUND Guarantee

Free themes
Price
Regular:

$

989 / Pro:

$1489

Free forever
Join 1000+

Customers

That Love GrowFast
Top reasons why customers love GrowFast: unique HubSpot theme, all-in-one service, and unbeatable service cost.

"With a website theme — you're looking for features that are easy to use and will look good so that the technology stays out of the way and you can focus on completing whatever task is at hand."

"We are so happy with the website, we feel we got a lot for the money we spent, and a very quick turnaround. I would certainly recommend Lpd-Themes. I hope to work with them again in the future."
Head of Marketing — NP3 Group

"A great theme! Very clean and looks stunning. Worked well for us when we created a very important landing page for the outreach campaign."
Marketing — Conveyor Guarding

"This template is a great fit for our Company & Industry. We're currently working on a website redesign and find this template very easy to work with. High marks so far !"
CEO — NetCommissions, Inc
TRUSTED BY LEADING COMPANIES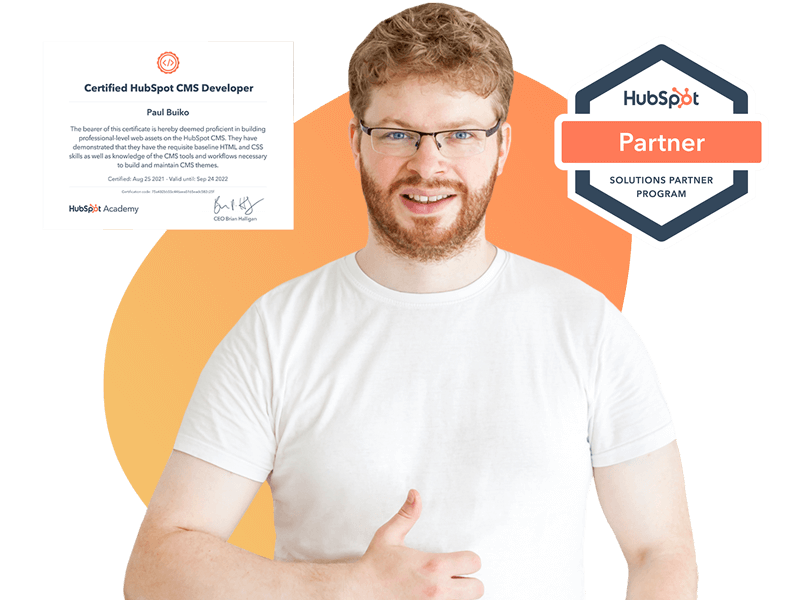 MY MISSION IS YOUR SUCCESS
Meet Your HubSpot CMS

Developer
I'm Paul. I help connect brands with their fans by providing HubSpot CMS solutions. I built a new, revolutionary HubSpot theme. I will help you launch a winning HubSpot site in just two (2) weeks.
Frequently Asked

Questions
1.) What is the difference between using a FREE migration service versus launching a new website with a GrowFast Pro theme?
Both options have very different processes.
Our migration service is the most straightforward, as we take a non-HubSpot website and replicate its existing content on HubSpot CMS. This also includes minor tweaks and design facelifts to improve overall presentation.
Alternatively, launching a new website is much more intensive, as you will be responsible for providing the design assets, design vision, copywriting, and more.
If you still have questions, don't hesitate to contact us for a FREE consultation!
Let's Talk About

Your Project